About Jörg Hau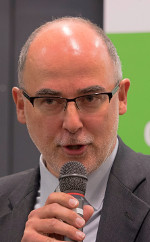 Professional scientist and trainer, Jörg Hau has accumulated more than two decades of hands-on experience in academic and industrial R&D: Fundamental and applied research, scientific instrumentation, software development, project management, quality management, training and coaching.
He founded the company Quality-Coach.ch in 2009 as an intentionally small, independent company, specialized in training, coaching and consulting services.
Scientific education in Germany. Diploma (Dipl. Chem.) 1990, Doctorate (Dr. rer. nat - PhD equivalent) in Analytical Chemistry 1994.
Project Management Professional (PMP) since 2009 and certified Professional Scrum Master I since 2012.
Working in Quality Management Systems since 1997. Lead Auditor (IRCA) for ISO 9001, ISO 14001 and ISO 45001. Knowledgeable in common industry standards such as GLP, Food Safety (HACCP), ISO 17025 and EC Directives like 2006/42/EC on machinery.
Expert in Swiss chemicals legislation. Qualified as Dangerous Goods Safety Advisor (ADR).
Strong IT skills: Several Open Source software projects; certified ITIL v3 Foundation 2009.
References and recommendations can be found e.g. on LinkedIn.
The list of publications is on Jörg Hau's private webpage.